Voyages en taxi …  à la limite de… sur le point de… trafic d'attente… souffle blanc…
L'espace urbain comme épreuve cinématographique.
Chromobiles (2001)
L'hypertemps

Electrique Babylone.
Fiction taximobile.
Je m'éjecte au bord d'une ligne, là où le pare-brise détient l'histoire répétitive d'une image prête à se changer au travers d'infiltrations « chro-mobiles ».
Photographies argentiques, tirages sur film Duratrans, Lightboxes, numérotées sur 7 ex +1EA
Taxis 2008
$4,10 Eternel instant 
(Press release)
Elodie Lachaud is constantly moving within an "in-between" dimension. "I have always been in between…
in-between two families, in-between two houses, in-between two cultures, in-between time…
I am interested in those places in between, those transitive places, those moving places. I am always in passing.
The series entitled Chromobiles is a taximobile fiction about New York. Elodie Lachaud takes pictures and makes films.
She describes, through taxis and dollars, her vision of time going by. She is at the same time seated and mobile in Manhattan's taxis.
Alone but also with "the other one" (the driver). Neither quite inside, nor quite outside. It is a serial fiction: Taxis 2001, Chromobiles NY
and now the third episode: NY Taxis 08, $4.10.
"I am staring at the taxi meter… $4.10… I keep on changing places; the car window is blurring my sight. I take a picture… $4.10…
New York is floating… I see the sky… from time to time… clear… hazy… I am scanning the city and its hustle and bustle… $4.10…
There is still no emergency exit."
One multimedia installation consisting of three performance/films: "$13.80", "Sheeps", "Wicked"
« When I'm filming it's only to capture the sounds, mixed with my inmost thoughts… »
We step in and out; we are just in passing… "in between", time is running… here we are. We step in…
Elodie Lachaud, photographer, video artist, lives and works in Paris.
About fifteen large illuminated photographs.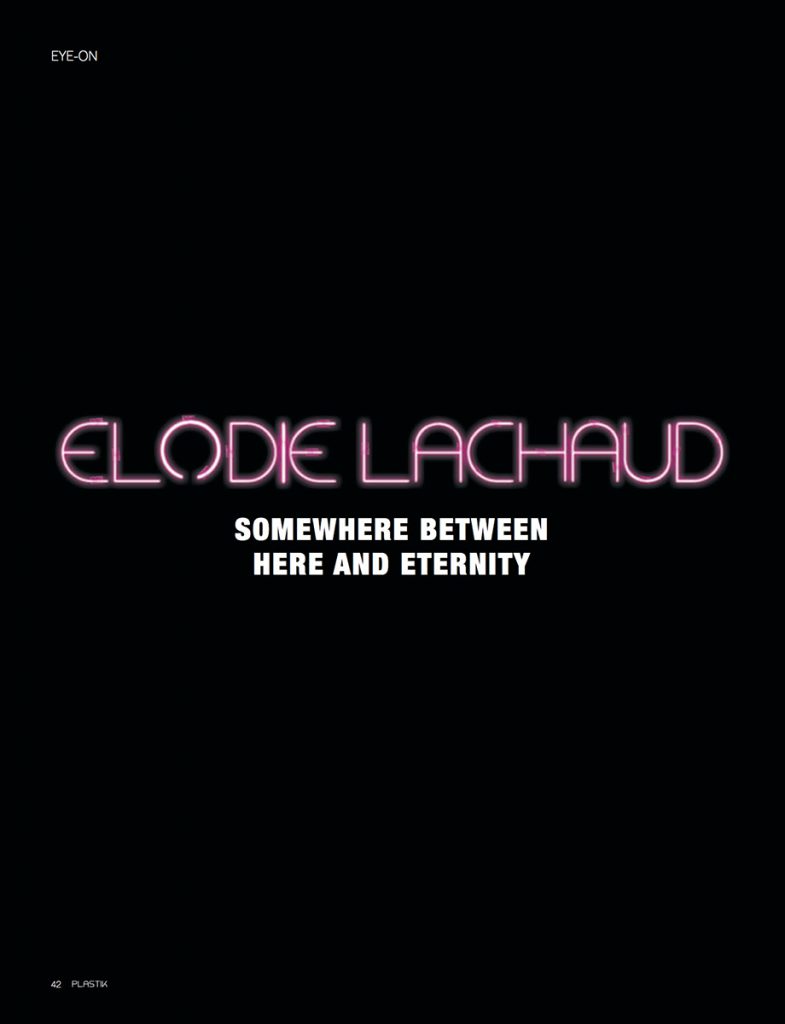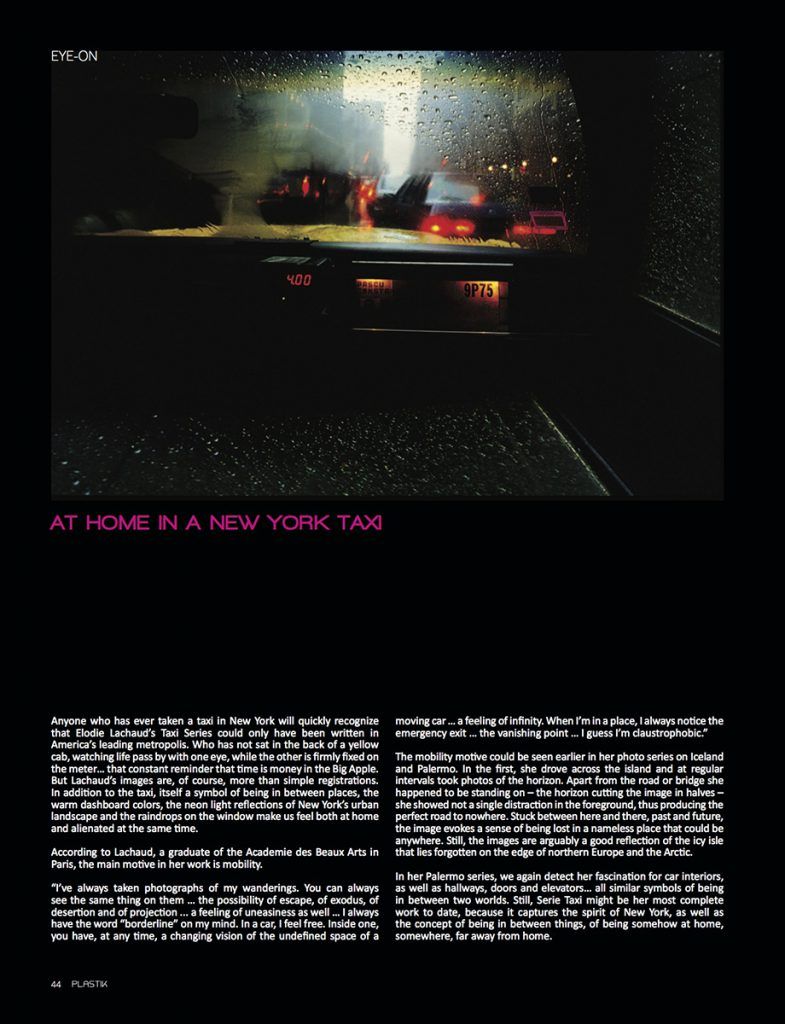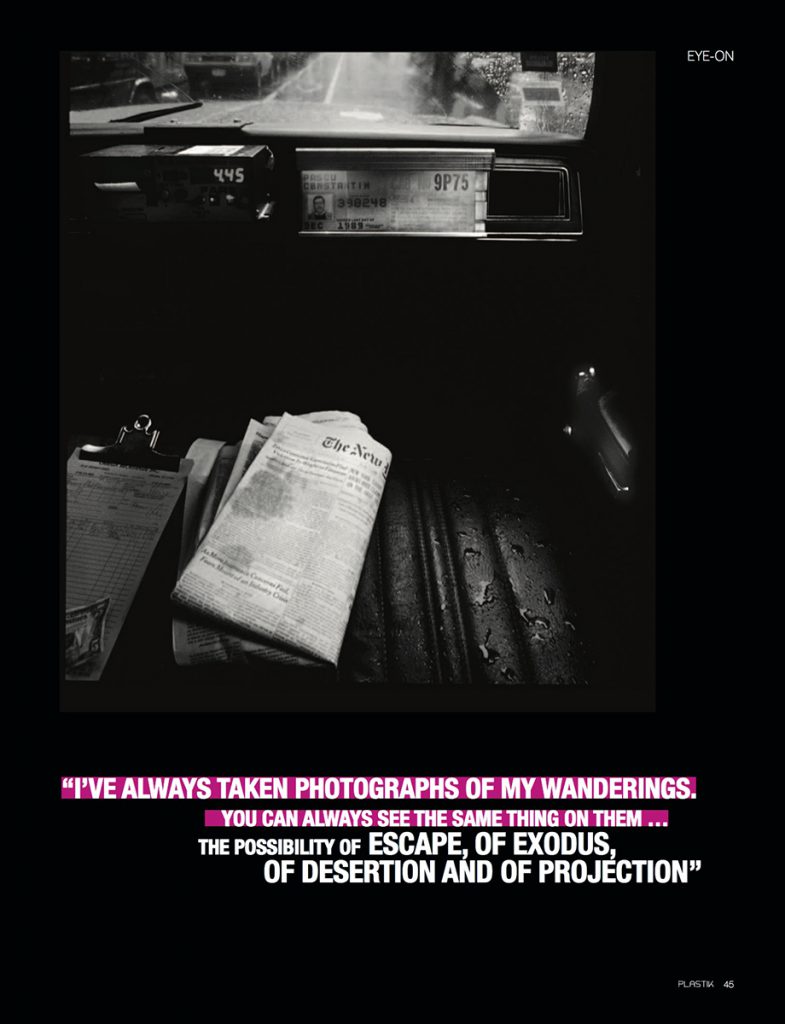 Le déplacement est le moteur du mouvement de mes pensées. C'est dans le rythme que se « met en route » mon processus créatif. Il m'ouvre un temps
émotionnel et intemporel. Un trajet que je dois effectuer pour porter mon intériorité en regard sur le réel. L'image est « déclencheur » elle se nourrit de l'instant et modifie sa progression et ses valeurs dans un rapport étroit à l'ensemble. La vision est troublée par des « occurrences » (flashs, mémoire, pensées) visuelles, textuelles et sonores. C'est par les interactions du « Moi » avec le territoire parcouru que se réalise le mouvement narratif de mon travail. Ces interactions se cristallisent par des images mixtes, croisement de témoignage et de fiction. Il s'agit de relier ce que je vois avec ce qui se produit intérieurement.
Les films
Chromobiles New York
Tricolarum – Paris Taxis (2012-2014)
A découvrir dans cette rubrique: